Posted by Rifat A. on 1/24/2020 to
In winter, you'll have to use the heating system for indoor comfort and since you'll be using it too frequently, you may end up with a massive electric bill. So, you'll decide to lower the use of the heating system in your house or office. Now the only thing you can do is try and keep the bills as low as possible. But what if heating bills aren't going down; there can be many reasons behind such drastic increase. In this article, I'll talk about those factors which can increase the heating bills of your house in winter and tell you how you can lower it.
Top 3 Reasons Why Your Heating Bills is Too High
1.
Temperature Difference
In winter, the temperature drops down very low, and you'll want your house to be warm. So, when you enter your house, you'll turn your heating system on and that also at a high temperature so that you can feel warm inside. But there's a problem with this.
When the temperature drops down very low in winter, the temperature gap gets bigger between the inside and outside. As a result, your HVAC system needs to work more to keep the temperature at your comfort level. This also puts stress on your HVAC system and consumes more energy to provide you heating. Because of this, your electric bill goes up, and you'll end up spending extra bucks on electric bills.
To solve this problem, you can lower the thermostat. It may seem counterproductive to many, but it's an effective way to do so. You won't feel any difference if you drop the temperature a few degrees Fahrenheit low. These few changes in degrees can save you up to 10% on electric bills.
2.
Poor Insulation
If you live in an old house, your house may not be properly insulated. As a result, all the heat your heating unit produces will go outside of your house, and you'll feel the need to use your heating unit more often. It'll drastically increase the electric bill of your house, and when you turn in your HVAC system for heating purposes, you won't get the desired heating because all the heat will go outside from your house. This is a complete waste of energy, and you'll end up spending excess money on electric bills.
To solve this problem, you should fix your house and find the leak spots. Also, if you live in a relatively newer house and you feel that your house may not have good insulation, you should consult with an expert and repair if needed. Many new houses can have bad insulation because of default construction failure. So, as soon as you find the bad insulation point, you should repair it. This will save you a significant amount of money on electric bills.
3.
Furnace Problem
If your furnace is old and doesn't function properly, your electric bill will be higher. Again, if your furnace is outdated or you haven't updated the furnace recently, your furnace won't work efficiently, and as a result, it will consume more energy. To avoid this problem, you should check your furnace once in every year to see everything is alright and functioning properly. You can contact an HVAC professional to check your furnace and tune-up if your furnace needs maintenance.
These are the 3 major reasons why your electric bill goes up in the winter. Now, I'll talk about the easiest way you can lower the electric bills in winter.
Install a Programmable Thermostat to lower heating bills
With the regular thermostat, your HVAC system will run all day long at your set temperature. But when you use a programmable thermostat, your HVAC system will only operate when you need it, or there are people in the room. This will definitely save you a significant amount of money. Also, you won't spend your time on adjusting the thermostat. In manual mode, homeowners needed to spend more time adjusting the thermostat and sometimes and it is a lengthy process. You need the practice to adjust the thermostat perfectly. But if you are using a smart thermostat, you don't have to think about this anymore. You will have to just set a schedule for a particular season and leave it alone for the rest of the season. It will change its temperature according to your direction without even bothering you. Also, you can control the thermostat with your mobile or your tablet computer.
See the summary of this content in the infographic – 3 Reasons For High Heating Bill [Infographic]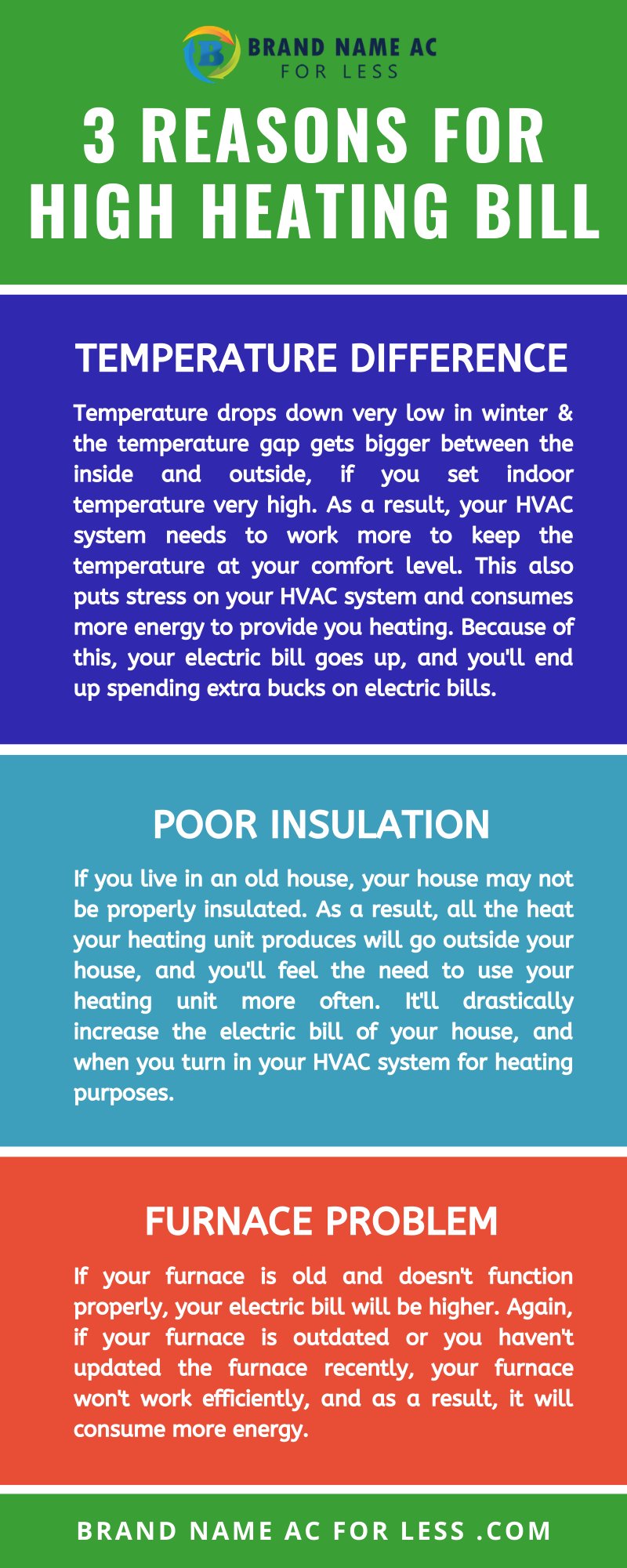 Are you looking for an HVAC system for your home?
Check out Brand Name AC for Less store where we have a wide range of residential & commercial HVAC system including –
Goodman Heat Pumps – Goodman Complete Heat Pump System – Goodman Condensers – Goodman Gas Furnace – Complete Gas Systems – Complete Electric System
Besides, for any kind of AC installation, AC replacement, AC maintenance & AC repair situations, call Brand Name AC for Less to ensure you get the best quotes and professional service.