Posted by Rifat A. on 12/4/2019 to
If your air conditioner isn't cooling your house in a hot summer day of August, buying an air conditioner becomes worthless. There can be many reasons behind this. Some of which are technical faults and some are non-technical. So, here are a few reasons why your air conditioner is ineffective –
4 Reasons Why Your AC isn't Functioning Properly
1.
Oversized Air Conditioner
Many people think that bigger air conditioner works more efficiently than the smaller one. But this isn't true for air conditioners. When you install an oversized air conditioner in your office space or home, it'll not work efficiently. Oversized air conditioner fails to control humidity and temperature very badly and when you install an oversized air conditioner, it'll frequently turn on-off its compressor. As a result, your HVAC unit won't be able to remove humidity from your home or office space. To choose the right sized AC for your space, you need to consult with an HVAC professional. An HVAC professional will tell you the right size for your space. Don't try to ask your builder because they'll try to suggest you bigger air conditioner which won't bring any good to you. So, before installing an air conditioner in your house or office space, make sure that you contact an HVAC professional and buy the right sized HVAC system.
2.
Dirty Coil
If your air conditioner isn't working efficiently, there is a chance that your air conditioner has a dirty coil. The condenser coil removes the heat from your house to outside. When it gets dirty, it cannot transfer heat properly to the outside. That makes the air conditioner less efficient. Also, when this happens, your air conditioner unit will have to work more to provide cooling. If the condenser coil gets dirty, your HVAC system won't be able to provide enough cooling. So, if you don't want to face this situation, you'll have to maintain your HVAC unit properly and should go for a regular HVAC maintenance check.
3.
Dirty Air Filter
The dirty air filter also makes your air conditioner less efficient as a dirty condenser coil. Air filter purifies the air by blocking all the small particles and debris. As its main function is to prevent all the dust and debris, it gets dirty very quickly. When you have a dirty air filter, the air filter won't allow the air conditioner to run at its full efficiency. As a result, your air conditioner's cooling capacity will get lower and won't work efficiently. To get rid of this problem, you'll have to change your air filter once every 2-3 months depending on the usage. If you live in a polluted city, you may have to change it more frequently. It completely depends on the outside air quality. Also, you can go for a regular HVAC maintenance check to solve this problem.
4.
Negative Air Pressure
If your air ventilation is poorly designed, you'll face this negative air pressure problem. So, how to know whether you have a negative air pressure problem or not? When you open the door of your space, if you notice that the airflow is coming inside from the outside with heavy flow, then you've got a negative air pressure problem.
So, when the outside humidity is high, inside air of your home will try to balance humidity with the outside air. As a result, high humidity air will enter your space. When high humidity air enters your space, it'll be very difficult for your HVAC system to control the humidity. As a result, your air conditioner will become ineffective and inefficient. To solve this problem, you'll have to change the air ventilation system in your house.
See the summary of this blog in this infographic – 4 Reasons Why Your AC Is So Ineffective [Infographic]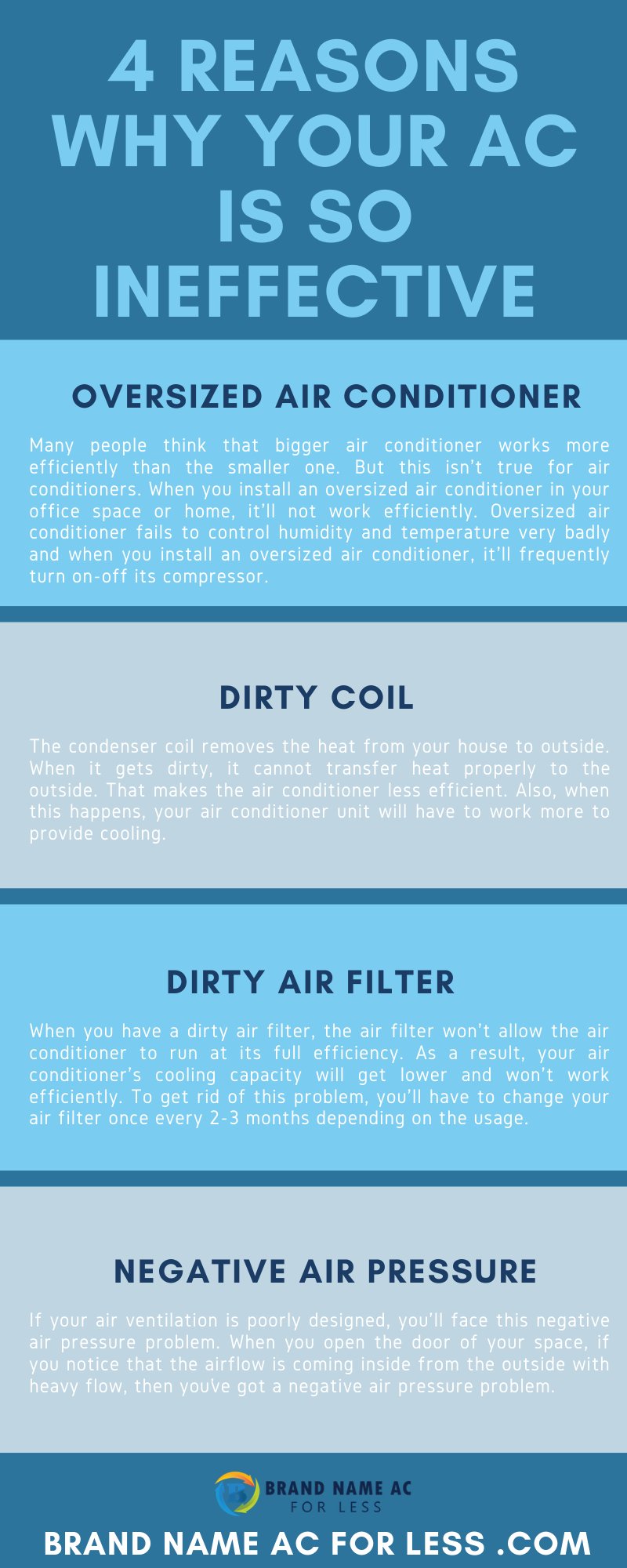 Are you looking for an HVAC system for your home?
Check out Brand Name AC for Less store where we have a wide range of residential & commercial HVAC system including –
Goodman Heat Pumps – Goodman Complete Heat Pump System – Goodman Condensers – Goodman Gas Furnace – Complete Gas Systems
Besides, for any kind of AC installation, AC replacement, AC maintenance & AC repair situations, call Brand Name AC for Less to ensure you get the best quotes and professional service.