Posted by Rifat A. on 1/3/2020 to
After the outbreak of Legionnaires' disease, New York City and state have passed a new on cooling tower regulations. Many of the companies are getting fined because of violating this law. If you own a building in NYC or you're in the compliance of a company in NYC, you should be aware of this new rule when you use a cooling tower as a part of your HVAC system. This can save you from hefty fines of this new cooling tower regulation. So, here a few things that you'll have to know when you use a cooling tower as a part of your HVAC system.
Things to Know About the New NYC Cooling Tower Regulations
1.
Register Your Cooling Tower
If you already own a cooling tower in your building, you'll have to register the cooling tower in the New York City Department of Health and Mental Hygiene and the State Department of Health. To register the cooling tower, you won't have to pay any extra fees. Again, if you want to buy a new cooling tower and install it, you'll have to register before installing the tower. If you fail to do so, you'll have to pay heavy fines.
It's important to register because when the Legionnaires' disease outbreak, the NYC state department has identified evaporative condensers and the cooling tower as the source of the disease. That's why the NYC government has decided to make registration mandatory.
2.
Cooling Tower Maintenance
Because of the ASHRAE 188 Water Safety Plan, your cooling tower must have a regular cooling tower maintenance plan and implementation. As per the law, you'll have to clean your cooling tower twice a year and will have to do a disinfection check once a year. Besides, you'll have to perform a quarterly Legionella test. Also, bacteria or Dipslide tests, chemical equipment test is required.
You'll have to test the water of the cooling tower three times a week. Otherwise, you may receive fine, and your registration can be withheld.
3.
Cooling Tower Inspection
You'll have to inspect your cooling tower by a qualified or certified person. He/she will check the presence of algae, bacteria, biofilm in the cooling tower equipment. Also, the inspector will perform the Legionella test in a laboratory, and this test will be done on a quarterly basis. Besides, the inspector will check the overall condition of the cooling tower, condition of the HVAC parts, chemicals, sump basin, fill material, etc. Your cooling tower needs to pass all these inspections in order to operate.
4.
Tower Disinfection
According to the new regulation, the owner of any NYC building that has a cooling tower as a part of the HVAC system will have to perform the culture testing every 3 months or 90 days. If any disinfection is required after the culture test, you'll have to disinfect the cooling tower in order to run it in the future. You won't be able to run your cooling tower unless you disinfect it and get certified by the authority. If you disobey this rule, you'll have to pay heavy fines.
5.
ASHRAE 188 Water Safety Plan
The ASHRAE 188 Water Safety Plan must have regular routine sampling procedures for emergency testing. Also, it includes a disinfection plan for Legionella bacteria and other harmful bacteria. You must have a copy of the plan near the cooling tower of your HVAC system, so when the authority asks for the plan, you can show it quickly.
These are the things that you need to know if you've got a cooling tower as a part of the HVAC system in our NYC building. NYC state authority has become very strict after the outbreak of the Legionnaires' disease, and you must be careful about the new regulation to get rid of the fine.
See the summary of this article here in the infographic – NYC's New Cooling Tower Regulations [Infographic]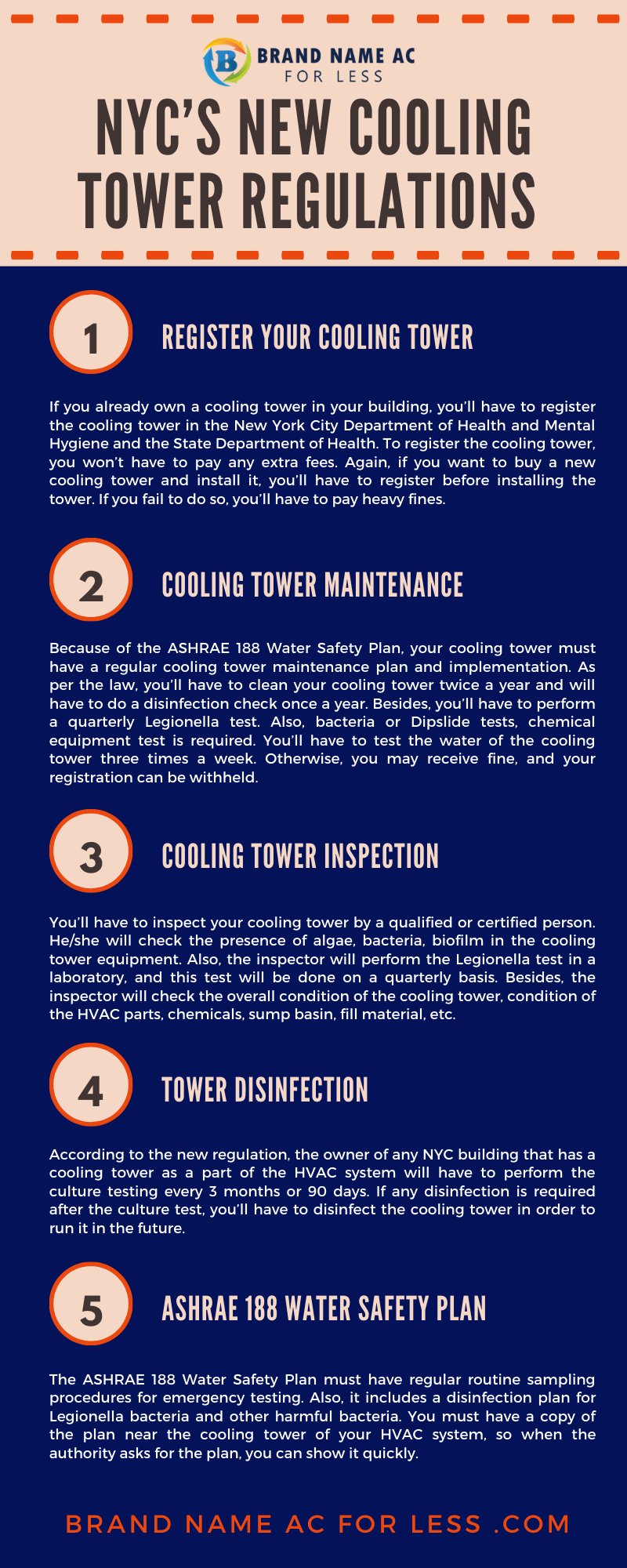 Are you looking for an HVAC system for your home?
Check out Brand Name AC for Less store where we have a wide range of residential & commercial HVAC system including –
Goodman Heat Pumps – Goodman Complete Heat Pump System – Goodman Condensers – Goodman Gas Furnace – Complete Gas Systems – Complete Electric System
Besides, for any kind of AC installation, AC replacement, AC maintenance & AC repair situations, call Brand Name AC for Less to ensure you get the best quotes and professional service.