Posted by Rifat A. on 2/21/2020 to
Programmable thermostats are getting popular day by day in the US. Most of the house owners in US are shifting to a programmable thermostat from their traditional thermostat. But unfortunately, a large portion of the users don't know how to program the thermostat because of a lack of knowledge and fear. As a result, buying a programmable thermostat becomes worthless. The US Department of Energy says that if you can change the temperature 5 to 10 degrees Fahrenheit from its typical thermostat setting, you can save up to 10% on monthly energy bills. Now see why changing temperature matters.
How Changing Temperature Helps You
Changing temperature, according to the season, has both economic and physical benefits. When you set thermostat temperature accordingly, you can save a significant amount of money on electric bills. For example, in winter, you may want to higher the temperature. But when you do so, it'll cost you big bucks because when you higher the thermostat settings, the difference of temperature between the outside and indoor becomes high, and your HVAC system needs to work more means it'll consume more electricity. As a result, the electric bill goes up. But if you set the thermostat temperature to 68 degrees Fahrenheit, your HVAC system will have work less means it'll consume less electricity. As a result, your electric bills will drop down, and you'll save money. It goes the same for summertime. You'll have to set an optimum temperature so that there are fewer loads on your HVAC system.
Now let's come to the physical aspect of change in temperature. For better sleep, we need to reach the thermoneutral state with the environment. Thermo neutral state means a stable temperature between our body and outside temperature. Many of us make this mistake in summer that they lower the temperature and goes to sleep. But it's not the right method of having a sound sleep. You need to set an optimum temperature where your body can reach the thermoneutral state so that you can have a sound sleep.
Now, I'll talk about how to program your thermostat.
How to Program a Thermostat
After buying a programmable thermostat, you'll have to set the thermostat setting according to your family preferences. Most of the programmable thermostats offer setting that can be stored for weeks, and you can set a different temperature for different times of the day. To set the thermostat temperature, you need to know your house and your schedule. By setting your thermostat temperature correctly, you can have the best comfort in your house.
Choose The Right Thermostat Option
Thermostat offers many options like seven-day programming, 5-1-1 programming, 5-2 programming, and so on. When you choose the 7-day programming option, you can choose a different temperature for each day of the week. If your family members stay most of the time outside and go to the office daily, then this is the best option for you. Again, when you choose the 5-1-1 programming setting, you can set the different temperatures of the weekdays and different temperatures for Saturday and Sunday. The 5-2 programming plan is almost similar to the 5-1-1 programming plan, but you'll have to combine Saturday and Sunday here. It's best for those people who enjoy two days off in a week.
Also, you can choose the 1-week programming plan where you'll have to set the temperature for a whole week. In this programming, the temperature will be constant throughout the week. If you're a busy person and don't care about the weekdays, then you can select this programming setting. You'll have to just select the temperature once, and the thermostat will do all the work by itself.
Change the Factory Settings
Nowadays, most of the programmable thermostat has factory settings for a typical US family. But no family is a typical family now. You'll have to change the factory setting and sync the thermostat with your routine. In winter, you can set your thermostat setting to 68 degrees Fahrenheit when you're inside of the house. But when you're outside or sleeping, lower the thermostat setting 10 degrees for optimal result.
In summer, set the thermostat settings to 78 degrees Fahrenheit when you're home. But when you're outside, you can turn off your air conditioner. Also, you can higher the temperature from the regular setting when you're outside.
See the summary of this content here in this infographic – How to Program a Thermostat [Infographic]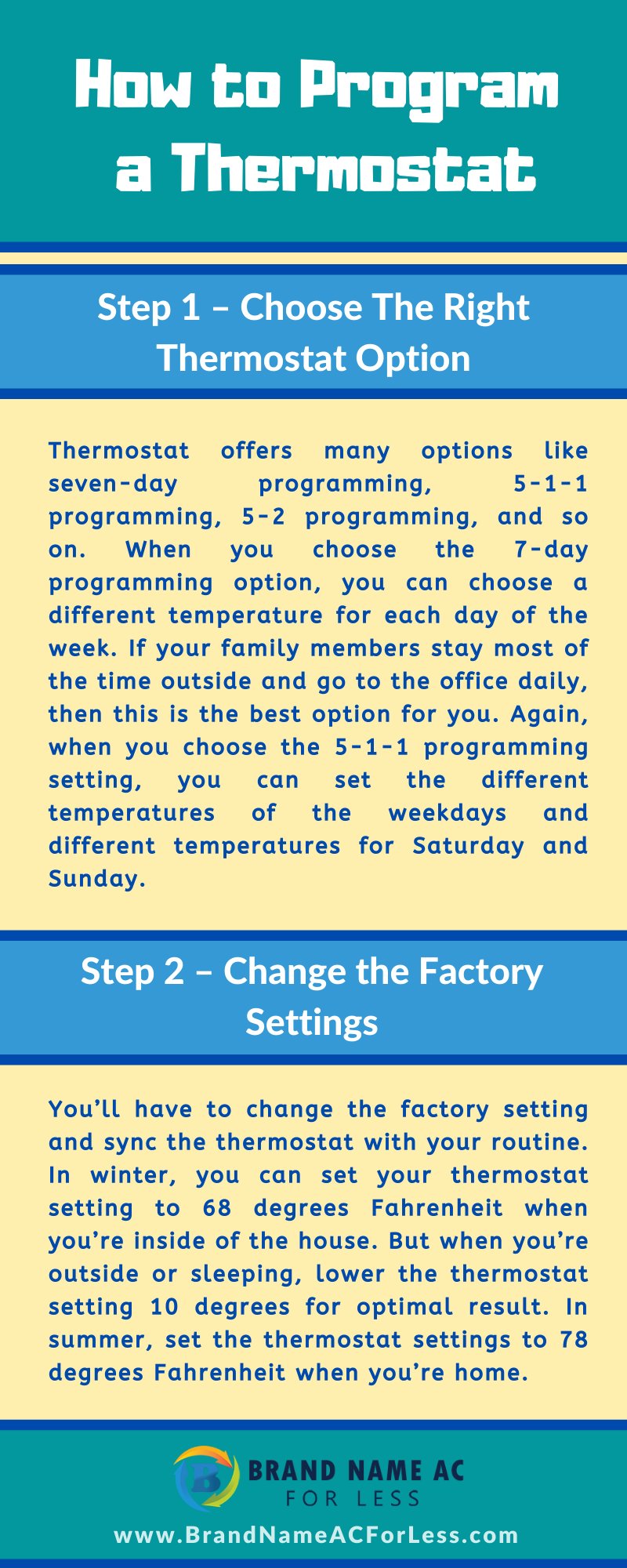 Are you looking for an HVAC system for your home?
Check out Brand Name AC for Less store where we have a wide range of residential & commercial HVAC system including –
Goodman Heat Pumps – Goodman Complete Heat Pump System – Goodman Condensers – Goodman Gas Furnace – Complete Gas Systems – Complete Electric System
Besides, for any kind of AC installation, AC replacement, AC maintenance & AC repair situations, call Brand Name AC for Less to ensure you get the best quotes and professional service.