Posted by Rifat A. on 12/29/2019 to
Despite your efforts to keep your HVAC system in prime condition throughout the years, there will eventually be some hiccups as the system ages, such as the drainage systems failing to get rid of stagnant water in time or the filters being unable to get the microns out of all the dust particles floating about. Whatever the case, you might eventually be faced with a decision to either get some AC maintenance & repair for your HVAC system or, more dauntingly, get a new system installed.
Is it worth the big investment?
For any homeowner, investing in a new HVAC system is not easy, after all, these are expensive systems that often function well past their intended lifetime. However, several important factors which made the systems initially great for your home, eventually degrade to the point where it comes financially unwise to keep these systems running. For example, with continued operation over the years, your air ducts will slowly build up huge amounts of dust, bacteria, and molds. From there, the evaporator coils will slowly lose their operational efficiency and your condenser will not perform up to the mark. When the signs become more obvious, such as damp and smelly air, poor air circulation, bad temperature control despite the HVAC seemingly operating properly, poor drainage and others, it might be time to get your system overhauled and upgraded to a newer model.
What options do I have?
When it comes to a new and modern HVAC systems, there are several options for you. The key to a good HVAC system, which is easy on both the environment and your wallet, is having high efficiency. In addition to this, the system will require several important automation features, which drastically increase the efficiency at which your system operates. Rather than relying on human attention, the system will be able to monitor itself, check for problem areas, identify possible issues in specific places, and notify the homeowner accordingly to get the required services. Such intelligent systems are a core feature in many modern Goodman systems. Being able to rely on your machine to take care of its needs, for the most part, is a huge weight off the shoulders of the homeowner and a great way to reduce energy bills.
Where can I get help?
HVAC systems come in a range of capacities, and with advancements in HVAC tech, the requirements of your home might have changed since the last time you installed your old HVAC system. Therefore, be sure to get some consultancy done beforehand, in order to make the best choice for your home. Without a proper audit from qualified professionals, relying merely on the ratings of the previous system, you might be paying a lot more than you need to.
Given the weather in your area, and the quality of air in your home, a completely different system from the one you currently have might be needed. For example, air handlers and heat pumps are great for homes that do not need to go through air conditioning units and cycling the air around effectively helps regulate the temperatures, be it hot or cold. On the other hand, more expensive systems with condensers and gas furnaces will be required for homes in areas with harsher weather.
Therefore, with the new year coming around really soon, it is a good time to have your old HVAC system checked out and to get yourself a much-needed upgrade with a more efficient HVAC system from reputable HVAC companies.
See the summary in this infographic – Should You Change Your HVAC System? [Infographic]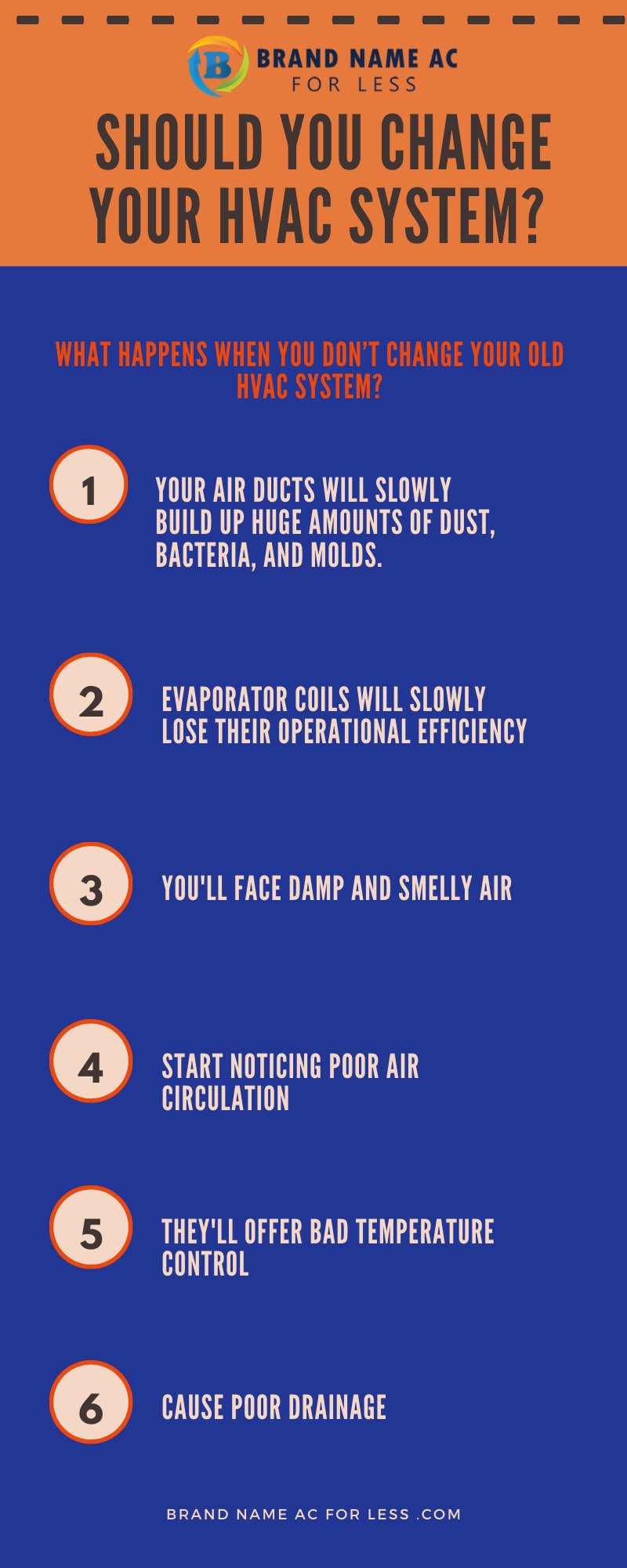 Are you looking for an HVAC system for your home?
Check out Brand Name AC for Less store where we have a wide range of residential & commercial HVAC system including –
Goodman Heat Pumps – Goodman Complete Heat Pump System – Goodman Condensers – Goodman Gas Furnace – Complete Gas Systems – Complete Electric System
Besides, for any kind of AC installation, AC replacement, AC maintenance & AC repair situations, call Brand Name AC for Less to ensure you get the best quotes and professional service.