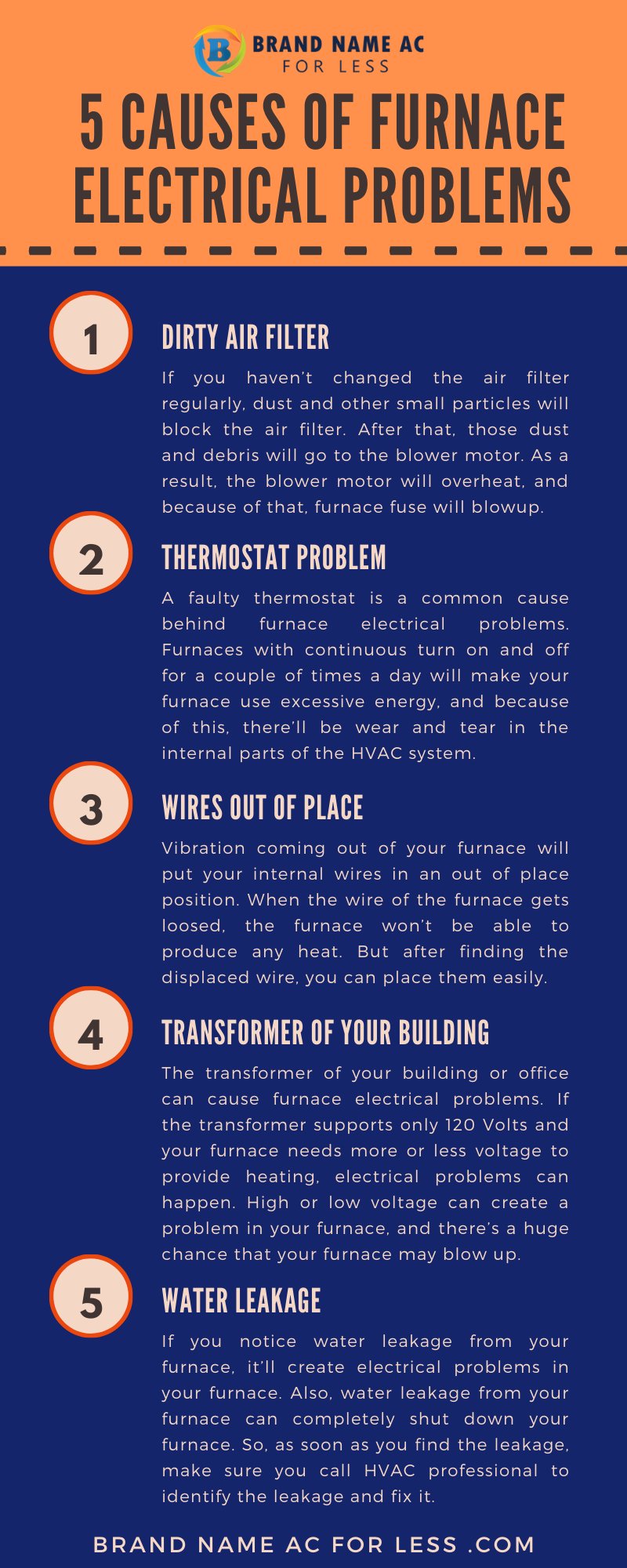 Posted by Rifat A. on 12/20/2019 to
Electrical furnace problems are very difficult to solve as there could be a number of different reasons behind this. You may even need to check a few parts of the HVAC system to get to the root of the problem. So, here are the top 5 causes that cause furnace electrical problems.
5 Causes of Furnace Electrical Problems
1.
Dirty Air Filter
If you haven't changed the air filter regularly, dust and other small particles will block the air filter. After that, those dust and debris will go to the blower motor. As a result, the blower motor will overheat, and because of that, furnace fuse will blowup. In the worst-case scenario, your furnace fuse will catch fire, and your house can be on fire. But the solution to this problem is very simple, and you can get rid of this problem by changing the air filter regularly. It can be once in every six months based on the usage of the air conditioner or HVAC system.
2.
Thermostat Problem
A faulty thermostat is a common cause behind furnace electrical problems. Furnaces with continuous turn on and off for a couple of times a day will make your furnace use excessive energy, and because of this, there'll be wear and tear in the internal parts of the HVAC system.
A faulty thermostat won't be able to read the temperature accurately, and the main reason behind this is the clogged blower or fan motor. So, if you want to solve this problem, make sure that your blower isn't full of dust and debris. Also, have a look at the fan of your HVAC system. Again, if you want an expert opinion, you can call an HVAC professional to look at your furnace and thermostat.
3.
Wires Out of Place
Vibration coming out of your furnace will put your internal wires in a out of place position. When the wire of the furnace gets loosed, the furnace won't be able to produce any heat. But you can avoid this problem easily by checking your HVAC system regularly. It'll take a little bit of time to find the faulty wire or displaced wire. But after finding the displaced wire, you can place the wires very easily. At first, you'll have to find the displaced wire, and the rest is easy.
Again, if you're not comfortable in handling the wires of your HVAC system, you should call an electrician or an HVAC professional to look after that. Wires of your furnace are very sensitive. One mistake in connecting the wire can blow your furnace completely. So, you should be careful while positioning the wire in the right place. That's why it's better to leave this part for an HVAC professional.
4.
The Transformer of Your Building
The transformer of your building or office can cause furnace electrical problems. If the transformer supports only 120 Volts and your furnace needs more or less voltage to provide heating, electrical problems can happen. High or low voltage can create a problem in your furnace, and there's a huge chance that your furnace may blow up. To solve this problem, you'll have to replace your old furnace with the new one that matches with your building's transformer. Otherwise, unwanted accidents can happen, and you may have to pay a significant amount of money to fix your house.
5.
Water Leakage
If you notice water leakage from your furnace, it'll create electrical problems in your furnace. Also, water leakage from your furnace can completely shut down your furnace. So, as soon as you find the water leakage, make sure you call an HVAC professional to identify the leakage and fix it.
Check out the summary of this blog post here – 5 Causes of Furnace Electrical Problems [Infographic]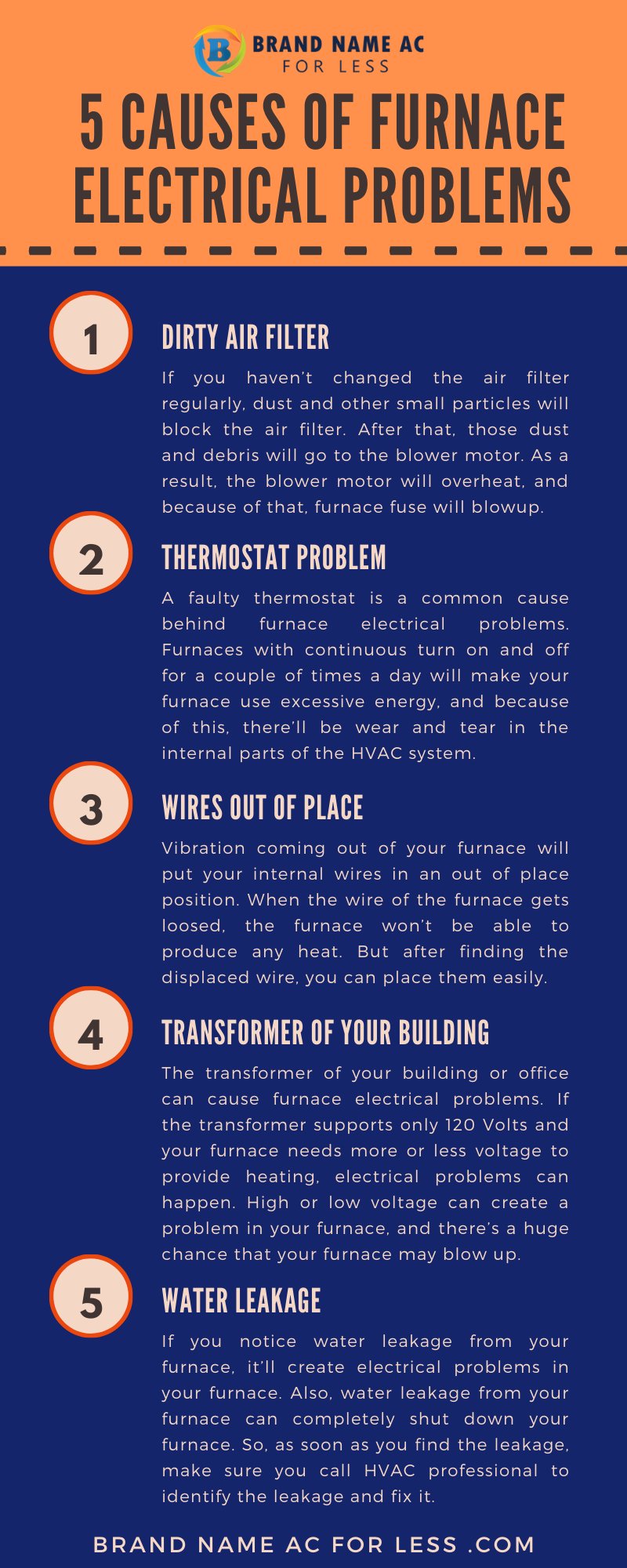 Are you looking for an HVAC system for your home?
Check out Brand Name AC for Less store where we have a wide range of residential & commercial HVAC system including –
Goodman Heat Pumps – Goodman Complete Heat Pump System – Goodman Condensers – GOODMAN Gas Furnace – Complete Gas Systems – Complete Electric System
Besides, for any kind of AC installation, AC replacement, AC maintenance & AC repair situations, call Brand Name AC for Less to ensure you get the best quotes and professional service.