Posted by Rifat A. on 2/15/2020 to
By using thermostat correctly, you can save a significant amount of money. But most of us make some kind of error while using the thermostat. As a result, we end up spending extra on electric bills. In this article, I'll talk about the common thermostat mistakes most of the house owners do and how to avoid them.
4 Common Thermostat Mistakes
1.
Not Using a Programmable Thermostat
When you use a traditional thermostat, it only turns on and off the central heating system. But when you use a programmable thermostat, you can have more advantages than a traditional thermostat. Also, when you use a programmable thermostat, you can make your heating and cooling system more energy-efficient and long-lasting.
If we talk about the biggest benefit of buying a smart thermostat, the number 1 reason will be it saves a ton of money. By using a programmable or smart thermostat, you are likely to save around 10-30% on your monthly energy bill. It saves energy automatically, uses less energy in the day time, and when everyone in the house is sleeping. You can also set a schedule for your air conditioner or heating system. Even a one-degree change in temperature will save you a lot of money in a year.
Also, by using a smart thermostat, you can spend less time adjusting the thermostat. In manual mode, homeowners needed to spend more time adjusting the thermostat, and sometimes it is a lengthy process. You need the practice to adjust the thermostat perfectly. But by using a smart thermostat, you don't have to think about this anymore. You'll have just to set a schedule for a particular season and leave it alone for the rest of the season.
2.
Turning Up the Thermostat
In winter, many house owners turn up the thermostat at high temperature and think that the house will warm faster. But this concept is wrong. Your HVAC system will warm your house at its own pace, no matter which temperature you set at. Also, when the difference between the outside and inside temperature is low, your HVAC system will have less strain and stress on it. So, when you raise the temperature at a higher point, the difference goes up, and as a result, it puts a lot of workload on your HVAC system. Also, because of this, your HVAC system will consume more energy and require frequent repairs, which will cost you big bucks.
So, don't set the temperature at a higher point. In winter, try to set the thermostat at 65 to 68 degrees Fahrenheit. Also, try to use put extra layer of clothing if you need so. It'll save you a ton of money.
3.
Setting the Wrong Temperature
Many house owners don't set the temperature correctly and end up spending extra money on electric bills. You need to set the correct temperature at every season. During the coldest months of the year, you can set your thermostat settings to 68 degrees Fahrenheit during the days. It will save your money as it will consume less energy. The US Department of Energy says that if you lower your settings by 10-15 degrees Fahrenheit for 7-8 hours every day, it'll reduce the energy consumption by up to 15% every year.
Again, when it's cold, and you're at home, you can set the temperature at 78 degrees Fahrenheit. But when you're outside, lower your thermostat setting because the lower the difference in temperature between the outside and inside, it'll put less strain on the HVAC system, and you'll save money.
4.
Setting the Thermostat in a Cool or Warm Room
The thermostat has a sensor in it that measures the temperature of the room where it is placed. This temperature is important to run your HVAC system efficiently and provide correct heating and cooling. When you install the thermostat in a cool or warm room, your thermostat won't be able to provide accurate heating and cooling as the real temperature of your house is different from the room where you installed the thermostat.
That's why you shouldn't install the thermostat in a place where the temperature is lower or higher than the other rooms. You should install the thermostat on the interior wall and at an optimum height from the floor of your house.
See the summary of this content here in this infographic – 4 Mistakes People Make with Thermostat [Infographic]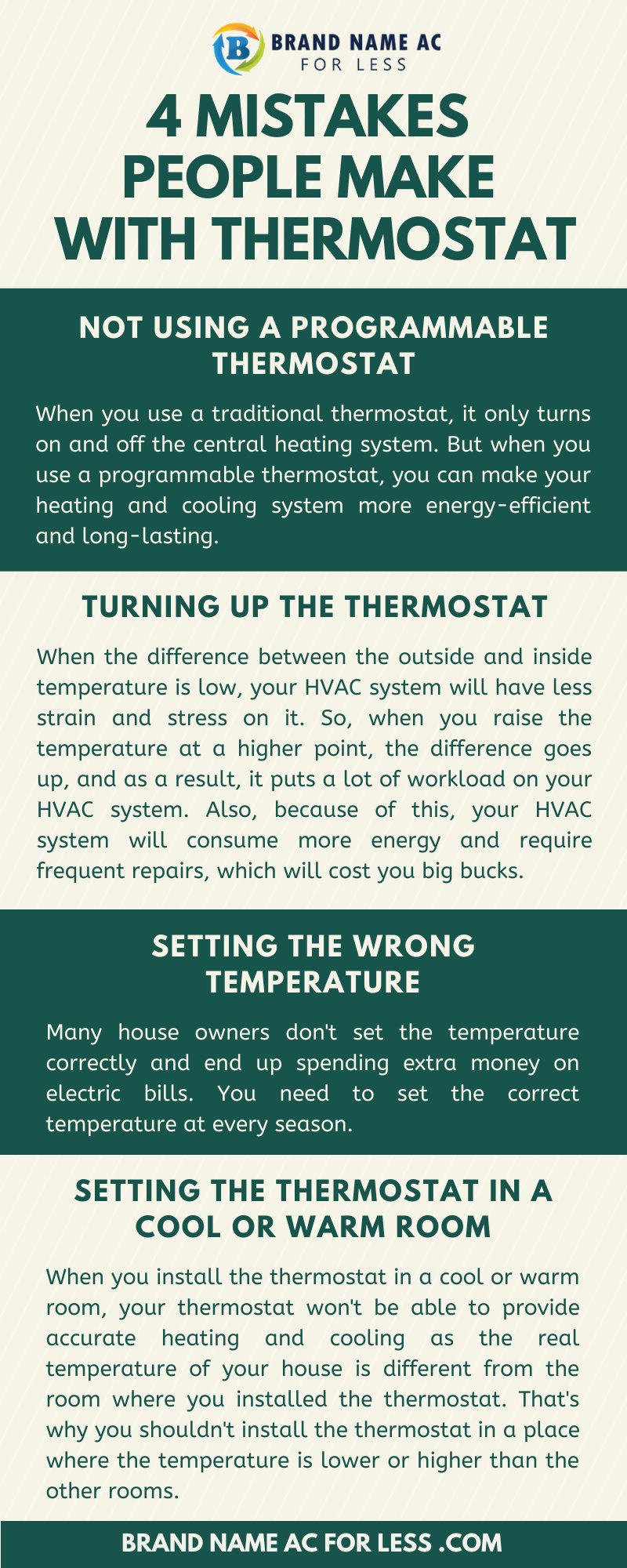 Are you looking for an HVAC system for your home?
Check out Brand Name AC for Less store where we have a wide range of residential & commercial HVAC system including –
Goodman Heat Pumps – Goodman Complete Heat Pump System – Goodman Condensers – Goodman Gas Furnace – Complete Gas Systems – Complete Electric System
Besides, for any kind of AC installation, AC replacement, AC maintenance & AC repair situations, call Brand Name AC for Less to ensure you get the best quotes and professional service.