Posted by Rifat A. on 1/10/2020 to
The role of an HVAC system changes every season. It's truer for spring. There're some DIY maintenance procedures for the HVAC system in spring, and these will help your HVAC system to run at full capacity. Here are a few DIY HVAC maintenance tips for spring.
Top 4 Spring HVAC Maintenance Tips
1.
Seal Your Home
You've to spend a lot of money on cooling your home space. Almost every household's half portion of the electricity comes from HVAC usage. So, don't let the cool air go outside. It's like throwing dollar bills outside from the top of the building.
You can seal your house in a few ways- weather-stripping, caulking, etc. these are great ways to seal your house. Again, if you're in doubt about the sealing, you can use a simple incense trick. Hold the incense stick to the area where you think there can be an air leak. If the smoke goes out and attracts to leak, there's a leak in your house. That's a very easy way to identify an air leak and seal your house completely.
Again, you can hire a professional technician to seal your house completely. Proper insulation will save you a lot of money, especially in spring, when you need to use your HVAC system more. Also, it'll provide you more comfort as the air won't leak outside and circulate in your home space only.
2.
Regular HVAC Maintenance
Regular HVAC maintenance is important for all seasons. It helps your HVAC equipment to function properly and saves the heating and cooling system from wear and tears. When you do the HVAC maintenance checkup regularly, it'll save you money because it'll reduce the stress on the HVAC system. As a result, your HVAC system will run smoothly, and you won't need to change any parts regularly.
You can change the air filter of your HVAC system by yourself. You should change the air filter once every 90 days or 3 months, depending on the usage. Also, if you see any water leakage or noise coming out of your HVAC system, try to find out the leak or call an HVAC professional to solve the problem. Leakage or abnormal noise is a pre-sign of system failure. That's why you shouldn't neglect any leak or unusual noise.
3.
Get a Smart Thermostat
Smart thermostats are very useful in modern days, especially if you're trying to save money on your electric bills. When you turn on your HVAC system, your HVAC system uses electricity to provide cooling to both areas where cooling is required and not needed. For example, if you're using a blanket or there's no one in the room, there's no need for cooling or heating. In these cases, a smart thermostat comes handy. The smart thermostat detects the presence of a human in space and provides cooling accordingly. Also, you can control your HVAC system far from home and set the temperature according to your demand. As it only provides heating and cooling to only those areas where it's needed, it can save you a lot of money. Besides, it'll reduce the stress on your HVAC system also.
So, before spring comes, try to install a smart thermostat in your HVAC system. A smart thermostat will increase the value of your house also.
4.
Check the Air Ducts
Look for cracks and gaps in the air duct.
The leak in the air ducts can create a problem in your comfort as you won't get the desired cooling from your HVAC system. In this case, you may need to call an HVAC professional to solve this problem. But you can do the initial work to find out where the leak is. It'll save you a lot of time while actually repairing the leaks by an HVAC professional. Look for cracks and gaps in the duct.
See the summary of this content here – 4 DIY Spring HVAC Maintenance Tips [Infographic]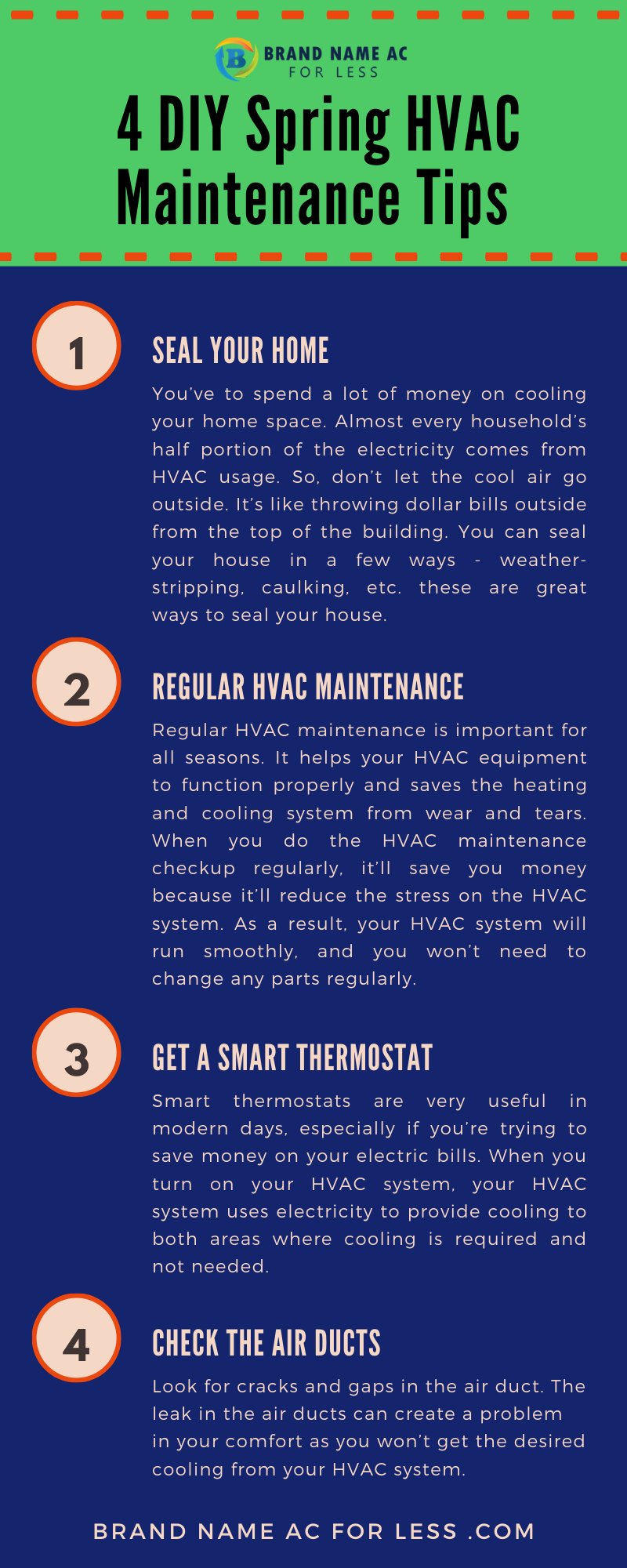 Are you looking for an HVAC system for your home?
Check out Brand Name AC for Less store where we have a wide range of residential & commercial HVAC system including –
Goodman Heat Pumps – Goodman Complete Heat Pump System – Goodman Condensers – Goodman Gas Furnace – Complete Gas Systems – Complete Electric System
Besides, for any kind of AC installation, AC replacement, AC maintenance & AC repair situations, call Brand Name AC for Less to ensure you get the best quotes and professional service.